As of 11/1/2016, ordering is now easier! Click on the thumbnails above to see all available options. When ordering, use the drop-downs above to select the item you desire.


SCROLL DOWN TO SEE ALL INFORMATION AND SPECIFICATIONS FOR THIS FIXTURE!
| | |
| --- | --- |
| | SPEC SHEETS (PDF): |
| | SPEC SHEET FOR THE OPTIONAL OCCUPANCY SENSOR+PHOTOCELL (PDF): |
| | SPEC SHEET FOR THE OPTIONAL EMERGENCY BATTERY BACKUP (PDF): |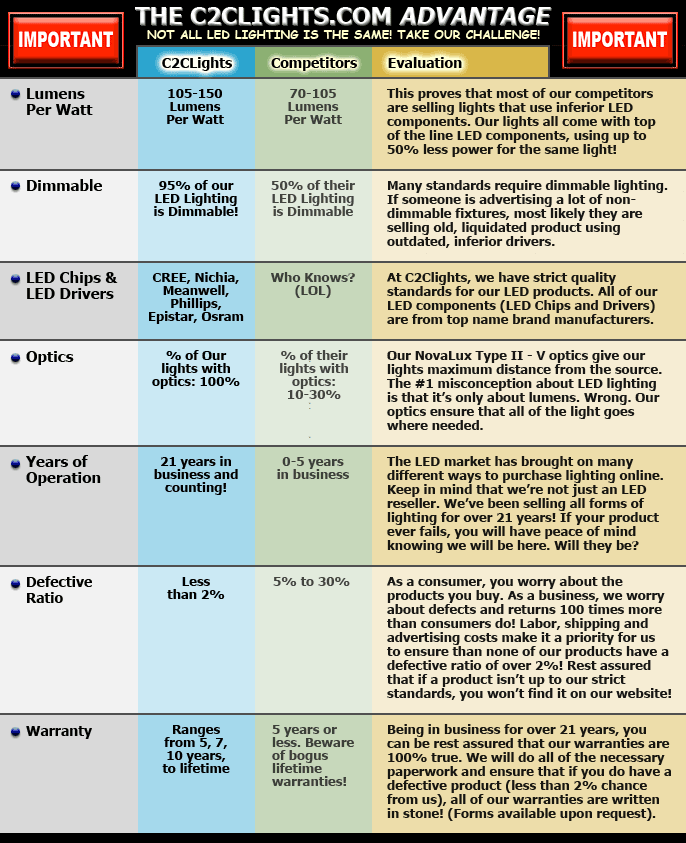 4 Foot (65W) High Output or 4 Foot (75W) Super High Output integrated LED Premium Vapor Proof (Vapor Tight) Fixtures. The 65 Watt fixture replaces 250-300 Watt HID or 4 x 32-40W (128-160W) T8-T12 CFL fixtures, and the 75 Watt fixture replaces 350-400 Watt HID or 4 x 54W (216W) T5HO CFL fixtures while consuming at least 60% less electricity! Not to mention these are fully dimmable with a 0-10V Dimmer! Never change another bulb or ballast again! Just install these and forget about them for AT LEAST 10-20 years! These LED Vapor Proofs are especially perfect for hard-to-reach locations where re-lamping can be a costly (and dangerous) pain in the you know what! Go Smart. Go with our LED Premium Vapor Proofs!

LIGHT COLOR OUTPUTS AVAILABLE:
This LED Vapor Proof comes with a light color outputs of 5000K Cool white or 4000K Pure White. See images above for a light color example. The 65 Watt unit is available in 5000K only.

RECOMMENDED APPLICATIONS:
Parking lots, gas stations, car washes, tunnels, large commercial freezers and refrigerators, warehouses, garages, etc. Great just about anywhere indoors or outdoors where the lights will be exposed to vapor or harsh elements! Can also be used in indoor dry locations as well.

BELOW PHOTOS SHOW LED VAPOR PROOF FIXTURES IN ACTION! CLICK ANY TO ENLARGE!

ADDITIONAL SPECIFICATIONS FOR THESE LED VAPOR PROOFS BELOW
CONSTRUCTION: Constructed in a durable plastic composite; equipped with a frosted lens for glare prevention and maximized brightness. Rated for wet location use.

LIGHT DISTRIBUTION: These LED Vapor Proof offers a wide 140° Beam Spread, offering maximum useful lumen output with little to no light loss! CFL and HID Vapor Proofs typically lose 50-70% of their lumens in wasted light shooting backwards into the fixture. With these LED Vapor Proofs, all of the available lumens are put into use, as no light shoots backwards from the source!

INPUT VOLTAGES AVAIABLE: 100VAC ~ 277VAC is standard. Also optionally available in 347VAC or 480VAC. Please allow 2-4 weeks for delivery of 347VAC – 480VAC. For other voltages not listed, please call us.

LED RATED LIFE: 100,000+ Hours, meaning if you were to use these fixtures for 8 hours per day, 365 days per year, these LED fixtures will last you over 34 YEARS! To put this into perspective, if you were to run this fixture 24 hours a day, 365 days per year, it would stay lit for over 11 years!!!

CRI: >83. The higher the CRI (Color Rendering Index) rating, the better! CRI represents the amount of the spectrum used in the light output, i.e. the higher the value, the better the color clarity you will see from the light! LED doesn't just save you money in energy costs, but it gives you a BETTER light versus Fluorescent. You will SEE the difference!

INSTALLATION & MOUNTING: These LED Vapor Proof fixtures come with built-in mounting supports, allowing for either Pendant (hanging), Ceiling, or Wall Mounting. If you wish to mount these with a suspended pendant mounting system and need the hardware to do so, please call us!

CERTIFICATIONS (LISTINGS): UL & cUL Listed, California Title 24 Approved, CE and RoHS Certified. IP65 Rated for Outdoor / Wet Location use, but also suitable for Indoor / Dry Location use.

ESTIMATED ENERGY COSTS OF A 350 WATT HID FIXTURE – 10 YEAR PERIOD:
$2,555.00* per fixture

ESTIMATED ENERGY COSTS OF A 75 WATT LED FIXTURE – 10 YEAR PERIOD:
$547.50* per fixture

ESTIMATED SAVINGS USING A 75 WATT LED FIXTURE – 10 YEAR PERIOD: $2,007.50* Not including any rebates by your local power company! *Estimated energy costs are estimated with fixtures running 10 hours per day, 365 days per year at $0.20 Per KWh. Your actual savings will vary based on amount of use and KWh pricing in your area.