CLICK ON A WATTAGE BELOW TO SEE THIS LIGHT IN A DIFFERENT WATTAGE!

SCROLL DOWN TO SEE ALL INFO AND SPECIFICATIONS FOR THIS FIXTURE!
| | |
| --- | --- |
| | SPECIFICATION SHEET: |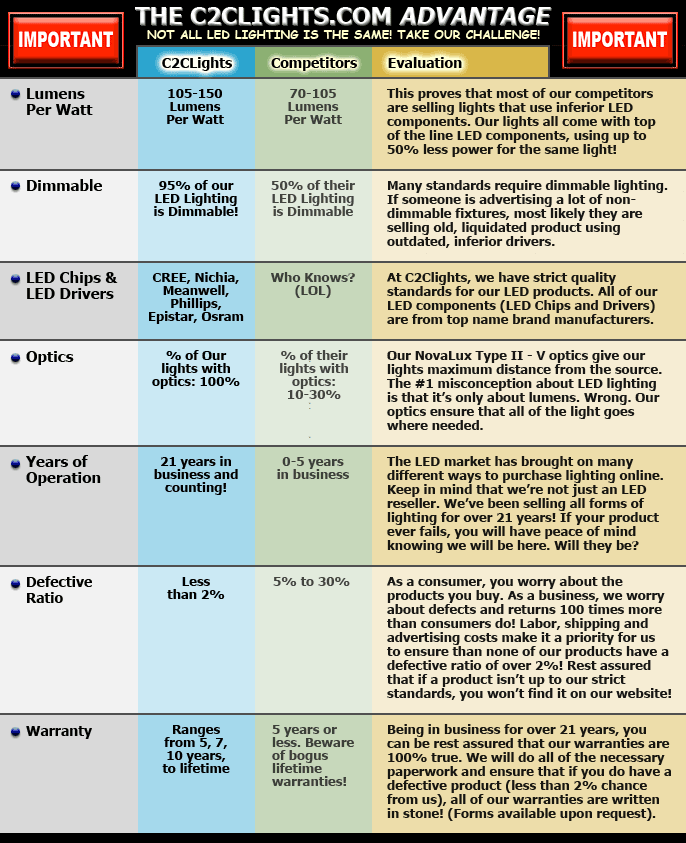 DLC 4.3 PREMIUM LISTED! PREMIUM QUALITY FOR AN UNBEATABLE PRICE! MULTIPLE MOUNTING OPTIONS, AND OPTIONAL PHOTOCELL AND / OR MICROWAVE MOTION SENSOR!
300 Watt Premium Commercial LED Lumina Pro Series Shoebox Flood / Pole Area Light. Replaces 1,000 Watt HID fixtures while consuming at least 70% less electricity! Never change another bulb or ballast again! Just install these and forget about them for AT LEAST 10-20 years!

BELOW PHOTOS SHOW LED SHOEBOX FLOODS IN ACTION! CLICK ANY TO ENLARGE!

ADDITIONAL SPECIFICATIONS FOR THIS LED SHOEBOX POLE LIGHT BELOW

INPUT VOLTAGES AVAILABLE: 100VAC ~ 277VAC is standard. 347VAC ~480VAC is optional. For other voltages, please call us.

LIGHT COLOR OUTPUT: Light Color output is 5000K Cool / Daylight White. 5000K Cool / Daylight White is recommended as it gives off a bright white light color similar to Metal Halide, making it the optimum light color output for commercial applications. For other light colors, please call us.

LIGHT DISTRIBUTION: Available with your choice of IES Type III (standard) or IES Type V (optional) light distribution optics. See images above for light distribution examples.

LED RATED LIFE: 100,000+ Hours, meaning if you were to use these fixtures for 8 hours per day, 365 days per year, these LED fixtures will last you over 34 YEARS! To put this into perspective, if you were to run this fixture 24 hours a day, 365 days per year, it would stay lit for over 11 years!!!

DIMMING DRIVER: Uses a Sosen Driver with built-in 0-10V Dimming, meaning this fixture can be dimmed with a 0-10V Dimmer! Sosen and Meanwell Drivers are by far the best, most reliable and most trusted LED drivers in the industry, and the only two driver manufacturers we trust!

INSTALLATION & MOUNTING: We offer many mounting options for this fixture. Please see above photos and options to select which mounting method works best for you!
ESTIMATED ENERGY COSTS OF A 1,000 WATT HID POLE / AREA LIGHT – 10 YEAR PERIOD:
$7,300.00* per fixture

ESTIMATED ENERGY COSTS OF THIS 300 WATT LED POLE / AREA LIGHT – 10 YEAR PERIOD:
$2,190.00* per fixture

ESTIMATED SAVINGS USING THIS LED POLE / AREA LIGHT – 10 YEAR PERIOD: $5,110.00* Not including any rebates by your local power company! *Estimated energy costs are estimated with fixtures running 10 hours per day, 365 days per year at $0.20 Per KWh. Your actual savings will vary based on amount of use and KWh pricing in your area.