SCROLL DOWN FOR ALL INFORMATION AND SPECIFICATIONS!
RADIANT® SUPERCHIP SERIES 24V 4.4W PER FOOT RGB COLOR-CHANGING LED STRIP LIGHT!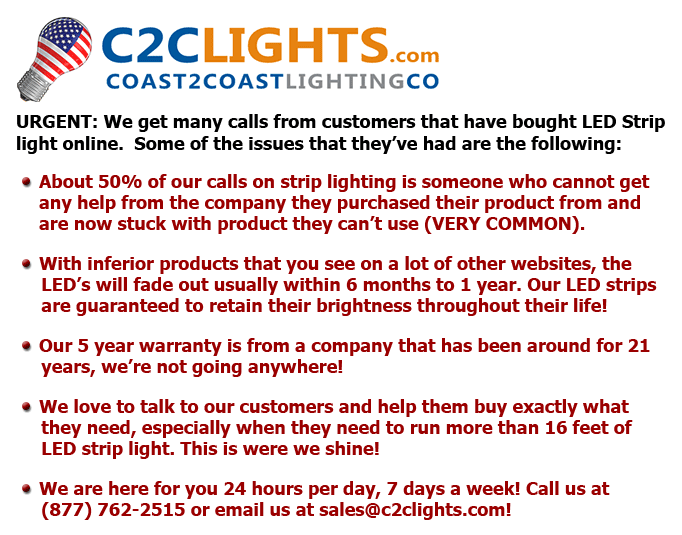 SCROLL DOWN FOR ALL INFO AND SPECS FOR THIS RGB COLOR CHANGING LED STRIP LIGHT
PREMIUM SUPERCHIP RADIANT® SERIES 24V 4.4W PER FOOT RGB COLOR CHANGING LED STRIP TAPE LIGHT! LONGEST RUNS IN THE INDUSTRY (UP TO 100 FEET*) WITH NO SPLICING AND PROPER CONNECTIONS, PLEASE CONTACT US FOR MORE INFO!
Bright, vivid and fully flexible SuperChip™ 32.8 Foot Color-Changing RGB LED Strip Light Spool. Uses 4.4 Watts Per Foot or 144 Watts Per Spool. Our SuperChip Radiant Series 24V RGB LED Tape Light Strip is designed to change multiple colors and patterns (Flash, Strobe, Fade, Smooth, Dimming, etc.) using an RGB controller (required) and can change from many shades of Reds, Greens, Blues, and can even change to Cool White (6500K) if desired! For much more advanced operation, this RGB 24V LED Strip Light can be connected to a DMX512 Controller using a DMX512 Decoder (see our accessories section). Requires a 24VDC LED Transformer (Driver) and an RGB LED Controller. Please see the link to our accessories section above.

FEATURES & BENEFITS:
Flexible and ultra-thin (only 0.1" thick x 0.4" Wide), and produces a very even light (little to no "hot spots" unlike Rope Light). Field cuttable every 6 LED's (about every 4"), which allows for installation flexibility and the ability to cover odd-sized areas. Long life span of at least 50,000 hours means you can install it and forget about it for at least 10 years! Installs easily using supplied 3M tape on the back. Simply peel it like tape and stick it wherever you want! We also offer mounting channel options for a more professional look, see above accessories link. Produces no UV light making it perfect for UV sensitive areas such as artwork, etc. Also produces very little heat, making it perfect for heat-sensitive areas!

RECOMMENDED APPLICATIONS:
Decorative lighting (cove lighting, back lighting) for homes, hotels, stores, yachts, bars, automobiles etc.; Guidance Lighting for cinemas, theatres, yachts , trains to guide people move around safely; Channel letter lighting for your stores, restaurants, bars etc… The possibilities are nearly endless!


ADDITIONAL SPECIFICATIONS FOR THIS SUPERCHIP™ RGB LED STRIP LIGHT BELOW

LENGTH OF SPOOL: 32.8 Feet, or 10 Meters.

INPUT VOLTAGE: 24 Volt DC Low Voltage. 24VDC Transformer / Driver or low voltage 24VDC power source is required and not included. For LED Drivers, please see our accessories section above.

RGB COLOR-CHANGING CONTROL: Requires an RGB LED Controller for color-changing, fading, etc (not included). Can be connected to a DMX512 system using one of our DMX512 Decoders. We offer a HUGE selection of RGB controllers, dimmers, and DMX512 Decoders to suit your needs!

CLICK HERE TO SEE OUR ACCESSORIES SECTION!

MAX RUN LENGTH: Up to 100+ Feet! Runs longer than 50 feet will require additional power connections from your power source to the RGB LED Strip run, and you will need an RGB Signal Amplifier(s) for runs longer than 33 feet. See our accessories section (link above).

POWER CONSUMPTION: 4.39 Watts Per Foot, or 144 Watts Per 32.8 foot Spool.

DIMENSIONS OF RGB LED STRIP: 0.4" (10 mm) Wide x 0.1" (2.2 mm) Thick.

# OF LED'S / Type: Ultra Premium SuperChip™ 5050 SMD RGB LED's. 18 LED's per foot, or 600 LED's per spool!

LIGHT DISTRIBUTION: 120° Wide Flood beam angle offers a wide spread directional light that will not waste light shooting backwards from the source!

DIMMING: Fully Dimmable depending on the RGB Control system you are using. Please see our accessories section (link above).

INSTALLATION & MOUNTING: Mounts just about anywhere utilizing durable long lasting 3M Tape on the back! No Mounting Channels or Clips needed, just peel it & stick! Optionally we do have mounting channels available if desired, please see our accessories section (link above).

LUMENS PER FOOT: 270 Lm/Foot when set to 6500K Daylight Cool White. Lumens will naturally vary depending on your RGB color settings.

USE: Comes Standard for use in indoor dry locations. Outdoor IP65 Wet Location use or Submersible IP68 (underwater) is also available. See above when ordering!

Warranty: Five (5) year limited manufacturer's warranty from date of delivery.
Warranty void if LED Strip Light is cut.