CLICK ON A WATTAGE BELOW TO SEE THIS LIGHT IN A DIFFERENT WATTAGE

| | |
| --- | --- |
| | SPECIFICATION SHEET (PDF): |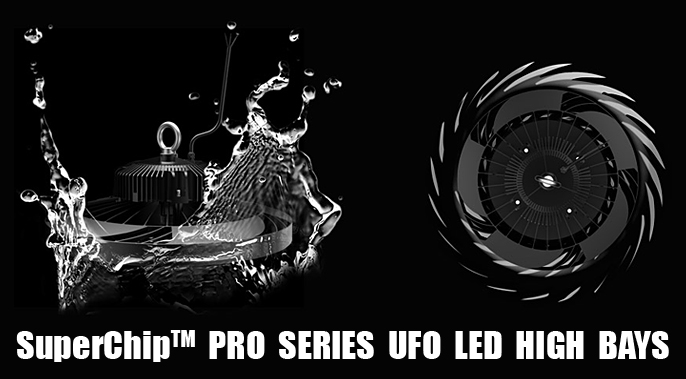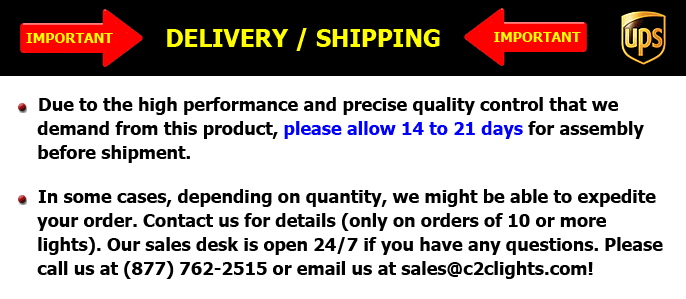 SCROLL DOWN TO SEE ALL INFORMATION AND SPECIFICATIONS FOR THIS FIXTURE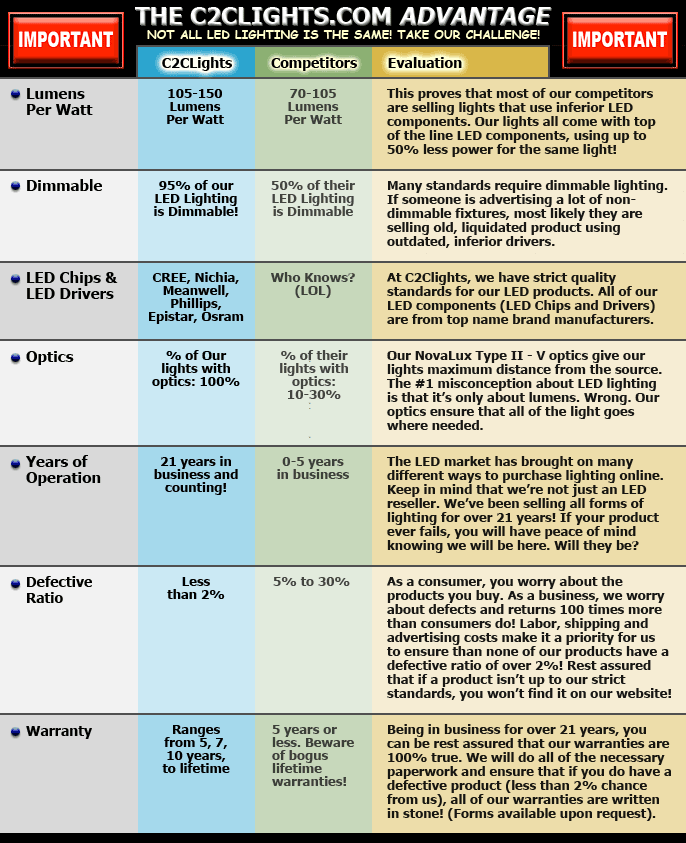 OUR NEWEST LED SUPERCHIP PRO SERIES HIGH BAY / LOW BAY LINE!
PREMIUM SERIES WITH YOUR CHOICE OF 120°, 90° OR 60° BEAM ANGLES!
240 Watt SuperChip™ Pro Series Premium Commercial LED UFO Style High Bay / Low Bay Light. Consumes at least 70% less electricity vs. HID! Never change another bulb or ballast again! Just install these and forget about them for AT LEAST 10-20 years!

EFFICIENT, COMPACT DESIGN:
These state of the art LED UFO High Bays offer incredible light output in a compact, lightweight size! Increased light output with reduced strain on your warehouse ceilings, walls, etc!

RECOMMENDED APPLICATIONS:
General illumination for warehouses, docks, Large warehouse retail environments (i.e. Costco / Home Depot types of businesses, Gymnasiums, Hydroponics, etc.), Gymnasiums, Indoor Pools, etc. Rated for indoor or outdoor use, dry, damp or wet locations! IP66 Outdoor rated!


ADDITIONAL SPECIFICATIONS FOR THIS LED UFO HIGH BAY BELOW

CONSTRUCTION: Industrial die cast anodized aluminum fixture housing (powdercoated in Black) offers excellent resistance to corrosion, UV degredation, impact and abrasion. Polycarbonate lens adds durability and clarity. Innovative modular fin heatsink design allows for maximum heat dissipation, maximizing the life of the fixture.

INPUT VOLTAGES AVAILABLE: 100VAC ~ 277VAC Multi-Tap is standard. Please call us for347VAC ~ 480VAC.

LIGHT COLOR OUTPUTS AVAILABLE: Light color outputs are available in 5000K Cool White (most popular), 5700K, 6500K Daylight White, 4000K Pure White and 3000K Warm White.

LIGHT DISTRIBUTION OPTIONS (BEAM ANGLES): Available with your choice of a 120° (standard), 90° or 60° Beam Angle.

CRI: >80. The higher the CRI (Color Rendering Index) rating, the better! CRI represents the amount of the spectrum used in the light output, i.e. the higher the value, the better the color clarity you will see from the light! LED doesn't just save you money in energy costs, but it gives you a BETTER light versus Fluorescent. You will SEE the difference!

LED RATED LIFE: 100,000+ Hours, meaning if you were to use these fixtures for 8 hours per day, 365 days per year, these LED fixtures will last you over 34 YEARS! To put this into perspective, if you were to run these fixtures 24 hours a day, 365 days per year, they would stay lit for over 11 years!!!

DIMMING: These fixtures are fully dimmable using a 0-10V dimming system!

INSTALLATION & MOUNTING: Comes standard with a utility hook mount for chain mounting (chain not included, will work with almost any chain). Optionally available is an adjustable trunnion style U-Bracket, which can be used with a pendant for increased drop from ceiling, if desired. See options above when ordering to order these mounts.

LISTINGS & CERTIFICATIONS: ETL, cETL, DLC 4.2 Listed, TUV, CE, RoHS, SAA, FCC & PLC Listed. IP66 Rated for indoor or outdoor wet location use.

ESTIMATED ANNUAL ENERGY COSTS OF A 750 WATT HID HIGH BAY:
$547.50* per fixture

ESTIMATED ANNUAL ENERGY COSTS OF THIS 240 WATT LED HIGH BAY:
$175.20* per fixture

ESTIMATED ANNUAL SAVINGS USING THIS LED FIXTURE: $372.30* Not including any rebates by your local power company! *Estimated energy costs are estimated with fixtures running 10 hours per day, 365 days per year at $0.20 Per KWh. Your actual savings will vary based on amount of use and KWh pricing in your area.