SELECT A WATTAGE BELOW TO GO TO THAT FIXTURE!


SCROLL DOWN TO SEE ALL INFORMATION AND SPECIFICATIONS FOR THIS FIXTURE!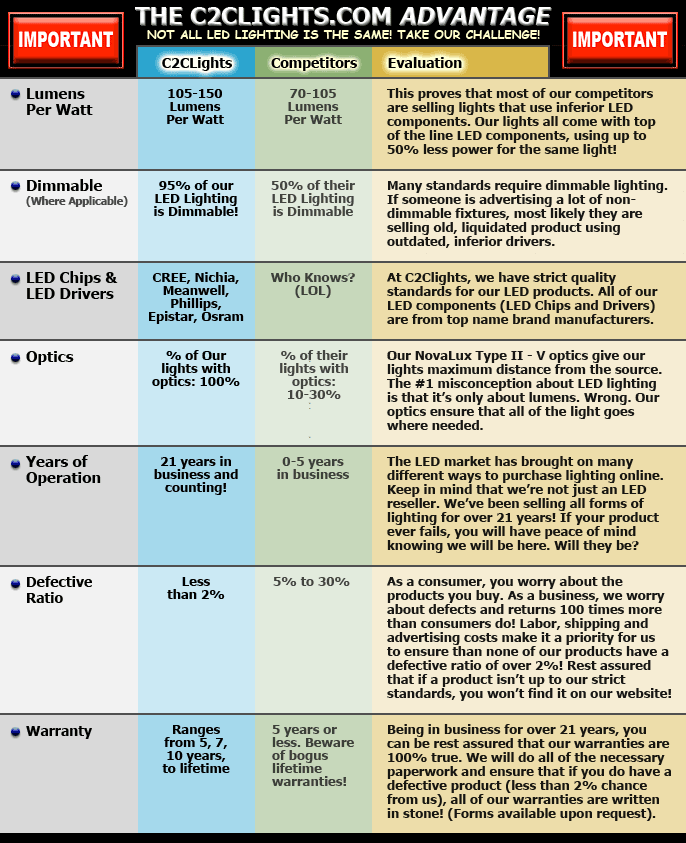 HOT SALE!!! PREMIUM QUALITY FOR A LOW PRICE! STARTS AT ONLY $89.99 Each!
50 Watt LED Classic Flood Light with Adjustable Trunnion Mount. Replaces 375 Watt Halogen or 150 Watt HID while consuming at least 70% less electricity! Never change another bulb or ballast again! Just install these and forget about them for AT LEAST 10-20 years!


ADDITIONAL SPECIFICATIONS FOR THIS LED FLOOD LIGHT BELOW

CONSTRUCTION: Die Cast Aluminum Housing with a Tempered Glass Lens. IP65 Wet Location sealed and rated.

INPUT VOLTAGES AVAILABLE: 100VAC to 240VAC is standard, 277VAC is available and optional. For other voltages, please call us.

LIGHT COLOR OUTPUT: These LED flood lights are available with light color outputs of 3000K Warm White, 4000K Pure White, 5000K Cool White (standard), or 6000K Daylight White. See the light color image examples above for details. 5000K or 6000K is recommended for commercial and security applications, while 3000K and 4000K is recommended for residential applications.

CRI: >75. The higher the CRI (Color Rendering Index) rating, the better! CRI represents the amount of the spectrum used in the light output, i.e. the higher the value, the better the color clarity you will see from the light! LED doesn't just save you money in energy costs, but it gives you a BETTER light versus Fluorescent. You will SEE the difference!

LED RATED LIFE: 50,000+ Hours! If you were to use these fixtures for 8 hours per day, 365 days per year, these LED fixtures will last you 24 YEARS! To put this into perspective, if you were to run these fixtures 24 hours a day, 365 days per year, they would stay lit for 8 years!!!

INSTALLATION & MOUNTING: Comes included with an Adjustable Trunnion Mounting Bracket. For other mounting options and needed hardware (pole mounting, etc), please call us.

CERTIFICATIONS: CE, FCC and RoHs Approved. IP65 Rated for outdoor wet location use, but also suitable for indoor use. These fixtures are not UL or ETL approved. If you need UL / ETL approved fixtures, CLICK HERE!

ESTIMATED ENERGY COSTS OF A 375 WATT QUARTZ HALOGEN FLOOD LIGHT – 10 YEAR PERIOD:
$2,737.50* per fixture

ESTIMATED ENERGY COSTS OF A 150 WATT METAL HALIDE FLOOD LIGHT – 10 YEAR PERIOD:
$1,095.00* per fixture

ESTIMATED ENERGY COSTS OF THIS 50 WATT LED FLOOD LIGHT – 10 YEAR PERIOD:
$365.00* per fixture

ESTIMATED SAVINGS USING THIS LED FLOOD LIGHT – 10 YEAR PERIOD: $2,372.50* versus using 375 Watt Halogen, $730.00* versus using 150 Watt Metal Halide. Savings do not include any rebates by your local power company! *Estimated energy costs are estimated with fixtures running 10 hours per day, 365 days per year at $0.20 Per KWh. Your actual savings will vary based on amount of use and KWh pricing in your area.