SCROLL DOWN TO SEE ALL INFORMATION AND SPECIFICATIONS FOR THIS FIXTURE
| | |
| --- | --- |
| | SPECIFICATION SHEET – LED CANOPY LIGHT (PDF): |
| | SPECIFICATION SHEET – ULTRASONIC BI-LEVEL MOTION SENSOR (PDF): |
CLICK ON A WATTAGE BELOW TO GO RIGHT TO THAT LIGHT!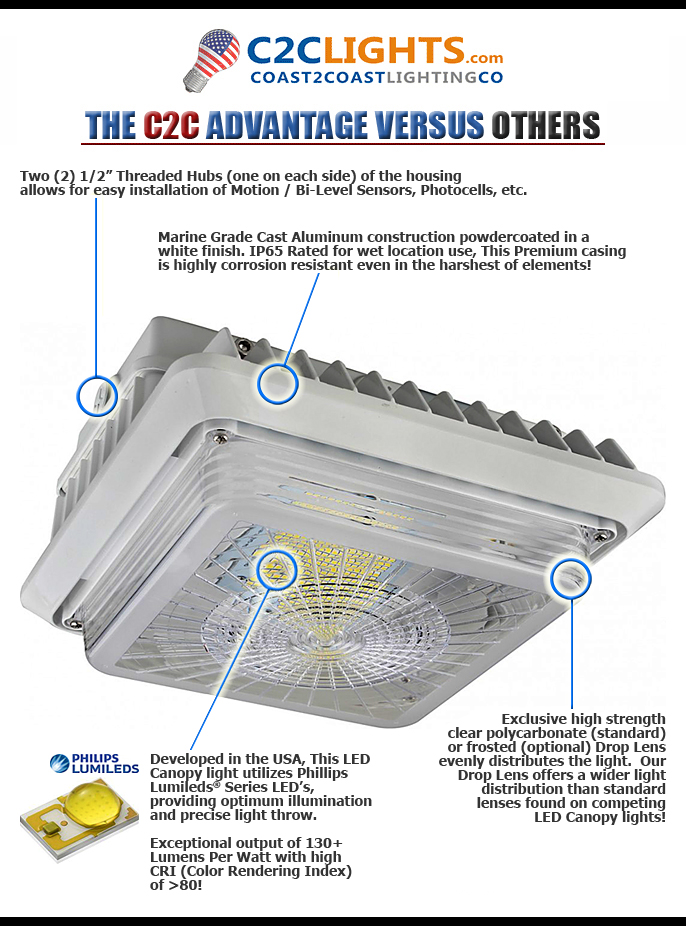 NEXGEN PRO SERIES DLC 4.3 LISTED, 130 LUMENS PER WATT! GREAT FOR PARKING GARAGES, WAREHOUSES, GAS STATIONS, ETC! IP65 OUTOOR RATED
40 Watt Commercial LED Nexgen Pro Sleek Canopy Light. Consumes at least 70% less electricity vs. HID! Never change another bulb or ballast again! Just install these and forget about them for AT LEAST 10-20 years!

BEAM OPTICS:
Our Nexgen Pro Series LED Canopy Lights have a viewing beam angle of 160°, offering crisp, even illumination over large areas.

LENS OPTIONS:
Comes standard with a Clear Prismatic Lens. Frosted Lens is optionally available.

ULTRASONIC BI-LEVEL DIMMING MOTION SENSOR OPTION:
Optional Bi-Level Motion Sensor offers 3-step dimming capability with up to a 40 foot radius detection (depending on mounting height. Max mounting height for detection is 20 feet. A Remote Control is also available for this sensor, see options above.

RECOMMENDED APPLICATIONS:
General illumination for outdoor locations such as parking garages, gas stations, walkways, entranceways, warehouses, and any other space requiring reliable, safety and security producing high lumens. Enhances safety and security over HID due to LED's superb color-rendering, making camera recordings much more clear and vivid!