SCROLL DOWN TO SEE ALL INFORMATION AND SPECIFICATIONS FOR THIS FIXTURE!
| | |
| --- | --- |
| | SPECIFICATION SHEET (PDF): |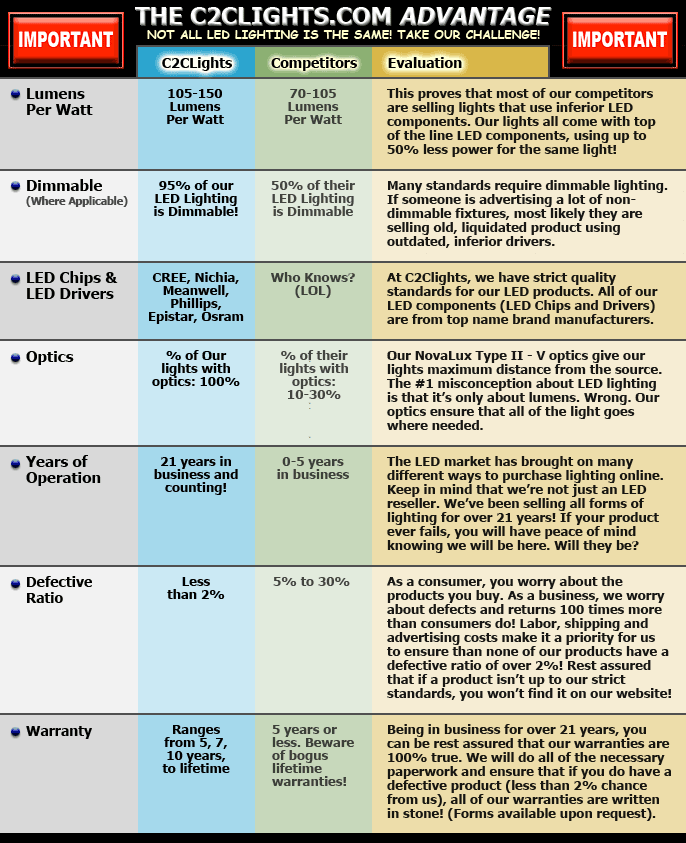 20 Watt Commercial LED Impact Series Vandal Proof Wall Pack. Replaces 70-80 Watt HID, 42 Watt CFL or 200 Watt Incandescent fixtures while consuming at least 70% less electricity! Never change another bulb or ballast again! Just install these and forget about them for AT LEAST 10-20 years!

VANDAL PROOF CONSTRUCTION:
This LED Wall Pack is designed for areas where accidental or intentional impacts to the fixture may occur. Places such as loading docks, doorways, pathways, schools, high crime areas, or for general lighting just about anywhere!!

PHOTOCELL, MOTION SENSOR & EMERGENCY BATTERY BACKUP OPTIONS:
These LED Wall Packs are available with an optional dawn-to-dusk photocell as well as an optional Motion Sensor, which attaches to the bottom of the fixture. For exact motion sensor or photocell specifications, please call or email us.

RECOMMENDED APPLICATIONS:
General illumination for building facades, parking areas, walkways, garages, loading areas and any other space requiring reliable safety and security with minimal light pollution. Enhances security due to LED's superb color-rendering, making camera recordings much more clear and vivid!


ADDITIONAL SPECS FOR THIS LED VANDAL PROOF WALL PACK BELOW

INPUT VOLTAGES AVAILABLE: 100VAC ~ 277VAC is standard. Also optionally available in 347VAC ~480VAC. For other voltages not listed, please call or email us.

LIGHT COLOR OUTPUTS AVAILABLE: These LED Wall Packs are available with light color outputs of 5000K Cool White (standard, in stock), 4000K* Pure White, 3500K* Neutral White or 3000K* Warm White.

LIGHT DISTRIBUTION: These LED Wall Packs offer a wide 110° x 130° light distribution, offering maximum useful lumen output with little to no light loss!

CRI: >75. The higher the CRI (Color Rendering Index) rating, the better! CRI represents the amount of the spectrum used in the light output, i.e. the higher the value, the better the color clarity you will see from the light! LED doesn't just save you money in energy costs, but it gives you a BETTER light versus Fluorescent. You will SEE the difference!

LED RATED LIFE: 100,000+ Hours, meaning if you were to use these fixtures for 8 hours per day, 365 days per year, these LED fixtures will last you over 34 YEARS! To put this into perspective, if you were to run this fixture 24 hours a day, 365 days per year, it would stay lit for over 11 years!!!

DIMMING: UThis LED Wall Pack is not dimmable.

INSTALLATION & MOUNTING: Includes all necessary hardware for surface wall mounting.

ESTIMATED ANNUAL ENERGY COSTS OF A 70 WATT HID WALL PACK:
$40.68* per fixture

ESTIMATED ANNUAL ENERGY COSTS OF THIS 20 WATT LED WALL PACK:
$11.68* per fixture

ESTIMATED ANNUAL SAVINGS USING THIS LED WALLPACK: $29.20* Not including any rebates by your local power company! *Estimated energy costs are estimated with fixtures running 10 hours per day, 365 days per year at $0.20 Per KWh. Your actual savings will vary based on amount of use and KWh pricing in your area.