MADE IN THE USA!!! UNBEATABLE QUALITY! SCROLL DOWN FOR ALL SPECS AND INFO.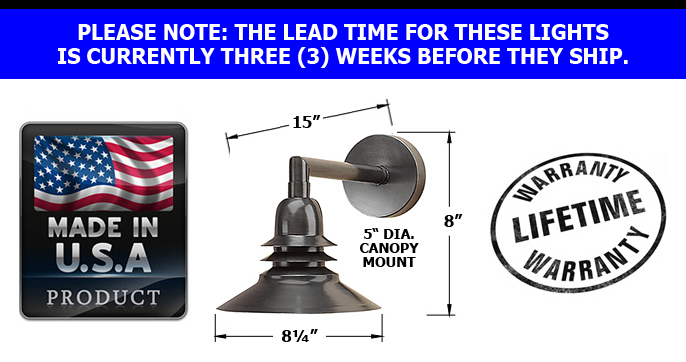 AVAILABLE FINISHES / METALS SHOWN BELOW – CLICK ON A FINISH BELOW TO SEE MORE DETAIL!
DON'T SEE A COLOR YOU WANT? CALL US AND WE CAN MAKE THESE FIXTURES IN ALMOST ANY COLOR!

INFORMATION FOR THIS LED GOOSENECK WALL / SIGN LIGHT
A. CHOOSE YOUR FINISH AND/OR METAL:
You can order this LED Gooseneck Style Wall / Sign Light in your choice of Brass (17 different finishes available) or Raw Copper. Raw Copper comes unfinished for a natural look, and comes in your choice of raw copper (no coating) or with a clear coat. See images above for all finish/metal options!


B. CHOOSE YOUR VOLTAGE AND LIGHT OUTPUT:
See image above for available Voltage, Lumens, and Light Color output options! Warm White is the most popular, but we also have Cool White options available.


LED 120V/12V LED Premium Brass or Raw Copper 8¼" Diameter Head Little Portola II Style Gooseneck Style Outdoor Wall Light / Sign Light. Made out of Heavy Duty Solid Brass (finished in the color of your choice), Raw Copper (unfinished) or Stainless Steel (unfinished), this fixture carries a LIFETIME GUARANTEE against rust and corrosion. These LED lights are as bright as 40-100 watt incandescent lights yet consume at least 85% less power, not to mention LED lasts 50,000+ hours! Go green and save $$$. Go LED!


ADDITIONAL SPECIFICATIONS FOR THIS LED GOOSENECK WALL / SIGN LIGHT
VOLTAGE:

100-130VAC Line Voltage LED (standard) or 12V AC/DC Low Voltage LED (optional).


MOUNTING:

Comes included with a 5″ diameter wall canopy, which can mount on to almost any flat surface, and will fit over a standard 4″ Round Junction Box (for 120V installations).


WARRANTY:

Guaranteed for life never to rust or corrode! LED components are warrantied for five (5) years.

ESTIMATED ANNUAL ENERGY COSTS USING A 100 WATT INCANDESCENT SOURCE:
$58.40* per fixture

ESTIMATED ANNUAL ENERGY COSTS USING A 15 WATT LED SOURCE:
$8.75* per fixture


ESTIMATED ANNUAL ENERGY SAVINGS USING THIS LIGHT IN LED:

$49.65* per fixture, Not including any rebates by your local power company! *Energy costs are estimated with fixtures running 8 hours per day, 365 days per year at $0.20 Per KWh. Your actual savings will vary based on amount of use and KWh pricing in your area.