CLICK ON A WATTAGE BELOW TO SEE THIS LIGHT IN THAT WATTAGE.

SCROLL DOWN TO SEE ALL INFORMATION AND SPECIFICATIONS FOR THIS LED FIXTURE!
| | |
| --- | --- |
| | SPECIFICATION SHEET (PDF): |
| | INSTALLATION GUIDE (PDF): |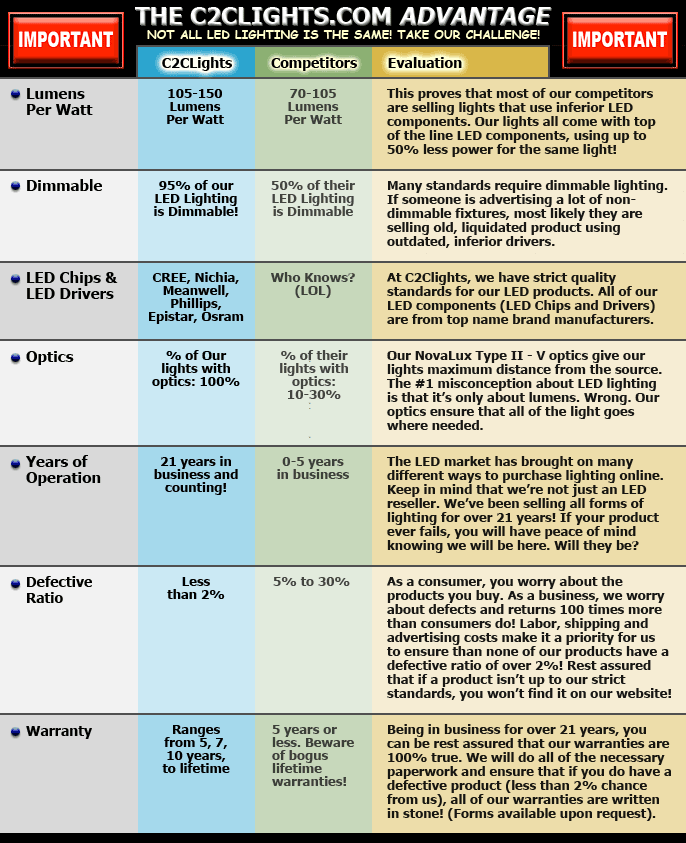 REPLACES 250-300W HID! HIGHEST LUMENS PER WATT IN THE INDUSTRY!
DLC PREMIUM 4.3! 10 YEAR INDUSTRY-LEADING WARRANTY!
100 Watt Premium Commercial Orion Series UFO Style LED High Bay lights. Consumes at least 70% less electricity vs. HID! Never change another bulb or ballast again! Just install these and forget about them for AT LEAST 10-20 years!

DLC 4.3 PREMIUM LISTED:
Great News! These LED UFO High Bays are DLC 4.3 Premium Listed, meaning that are eligible for even greater rebate savings from most power companies accross the USA. These fixtures offer industry-leading efficiency of 150 Lumens Per Watt!

RECOMMENDED APPLICATIONS:
General illumination for warehouses, docks, Large warehouse retail environments (i.e. Costco / Home Depot types of businesses, Gymnasiums, Hydroponics, etc.), Gymnasiums, Indoor Pools, etc. Rated for indoor or outdoor use, dry, damp or wet locations!


ADDITIONAL SPECIFICATIONS FOR THESE LED UFO HIGH BAYS BELOW

CONSTRUCTION: The UFO High Bay housing is formed from cast and extruded aluminum, powdercoated in Black. manufacturing process delivers a more versatile product with superior performance.

INPUT VOLTAGES AVAILABLE: 100VAC ~ 277VAC is standard. Also optionally available in 347VAC or 480VAC (see above). For other voltages not listed, please call us.

LIGHT COLOR OUTPUT: Light color output comes in 5000K Cool White, which gives off a bright white light color similar to Metal Halide and is the optimum light color output for commercial applications.

LIGHT DISTRIBUTION (OPTICS): 120° Wide Beam offers maximum light coverage.

CRI: >80. The higher the CRI (Color Rendering Index) rating, the better! CRI represents the amount of the spectrum used in the light output, i.e. the higher the value, the better the color clarity you will see from the light! LED doesn't just save you money in energy costs, but it gives you a BETTER light versus Fluorescent. You will SEE the difference!

LED RATED LIFE: 100,000+ Hours, meaning if you were to use these fixtures for 8 hours per day, 365 days per year, these LED fixtures will last you over 34 YEARS! To put this into perspective, if you were to run these fixtures 24 hours a day, 365 days per year, they would stay lit for over 11 years!!!

DIMMING DRIVER: These fixtures can be dimmed with a 0-10V LED Dimmer!

INSTALLATION & MOUNTING: The LED UFO high bay is best mounted via cable or pendant suspension. Max recommended mounting height is 15 feet. If mounting between 15-25 foot heights, the 150W unit is recommended. If mounting between 25-30 foot heights, the 200W unit is recommended. If mounting at heights of 30-40 feet or higher, the 250W unit is recommended. See above links. The sleek, slim & lightweight profile allows for exceptionally versatile placement compared to traditional high bays.

ESTIMATED ANNUAL ENERGY COSTS OF A 300 WATT HID HIGH BAY:
$219.00* per fixture

ESTIMATED ENERGY COSTS OF THIS 100 WATT LED HIGH BAY:
$73.00* per fixture

ESTIMATED ANNUAL ENERGY COST SAVINGS USING THIS UFO LED HIGH BAY: $146.00* Not including any rebates by your local power company! *Estimated energy costs are estimated with fixtures running 10 hours per day, 365 days per year at $0.20 Per KWh. Your actual savings will vary based on amount of use and KWh pricing in your area.