SCROLL DOWN TO SEE ALL INFORMATION AND SPECIFICATIONS FOR THIS FIXTURE
SPECIFICATION SHEET WITH PHOTOMETRICS (PDF):

    

CLICK ON A WATTAGE BELOW TO GO TO THAT LIGHT!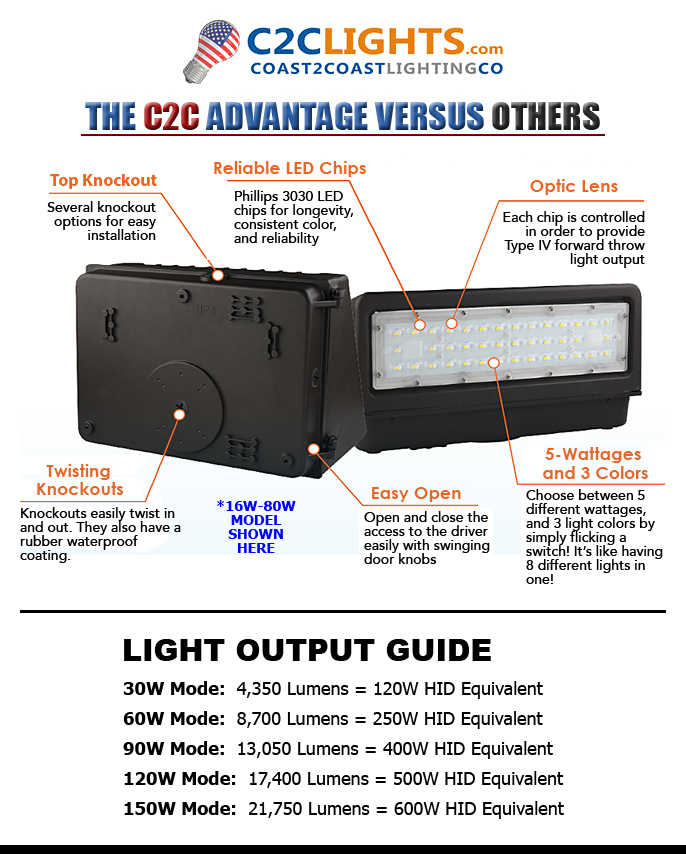 NEW SLEEK DESIGN! NOW 145+ LUMENS PER WATT! TYPE IV FORWARD THROW OPTICS!




30W / 60W / 90W / 120W / 150W Proton Series Premium Commercial LED Full Cutoff Wall Pack with Type IV Forward Throw Optics. Replaces 120-600 Watt HID fixtures while consuming at least 70% less electricity! Never change another bulb or ballast again! These lights are rated for 100,000 hours and come with a 5 year manufacturer's warranty. Just install these and forget about them for AT LEAST 10-20 years!

WHAT COLOR TEMPERATURE SHOULD I USE? HOW BRIGHT SHOULD MY LIGHTS BE? ORDER WORRY-FREE AND SET YOUR LUMEN OUTPUT AND LIGHT COLOR TEMPERATURE ON THE JOB SITE!


5000K? Check. 4000K? Check. 3000K? Check. Change the lights to the color temperature you desire WITHOUT having to guess before ordering. Our revolutionary tuneable CCT technology makes ordering worry-free! You can set this LED wallpack light to 150 Watts, 120 Watts, 90 Watts, 60 Watts or 30 Watts! Of course all wattage settings are fully 0-10V Dimmable so you can make the lights as bright as you want!

TYPE IV FOWARD THROW OPTICS PUTS LIGHT WHERE YOU WANT IT!


Our precise optics throw the light down and out forward, effectively illuminating areas and walkways while maintaining a low profile and keeping 100% dark sky compliant!



RECOMMENDED APPLICATIONS:


General illumination for building facades, parking areas, walkways, garages, loading areas and any other space requiring reliable safety and security with minimal light pollution. Enhances security due to LED's superb color-rendering, making camera recordings much more clear and vivid!